Preschool Teacher Ellen Weaver joined the Cape Care preschool teaching team at the end of February 2020 as the head pre-k teacher (Butterfly Room). Ellen grew up in Cape Elizabeth with her two brothers and graduated in 2001. She then graduated from Colby College in 2005 with a degree in American Studies. 
In 2008 she completed the Extended Teacher Education Program (ETEP) at the University of Southern Maine which earned her a K-8 teaching certificate.  The following year she received her Master's in Applied Literacy from the University of Southern Maine.  She was named to the Maine Registry by Maine Roads to Quality in 2012.  This registry recognizes Ellen's experience, training, education,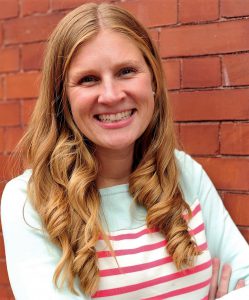 and volunteer contributions to the early childhood professions. 
Ellen has been an active member of the Junior League of Portland, Maine for 15 years and was honored to be the organization's President in 2015-2016.  Six of those years were spent working on the Kids in the Kitchen initiative, a nationwide program designed to educate and prevent childhood obesity. In addition to continuing to serve the Portland community as an active member of the Junior League of Portland, Ellen is in her second term as president of the Portland Ballet Board.
In her free time, Ellen enjoys running, and CrossFit, and currently dances twice a week. She also loves pink and polka dots 🙂